Welcome to Waveland Bowl
Waveland Bowl is the largest bowling alley in Chicago with 40 lanes, all with automatic scoring. Programmable bumpers are available on every lane for children. We have two bars, a billiards area, a children's movie theater and a restaurant. We have won numerous awards within the city and the bowling industry, such as being voted "Chicago's Best Bowling Center" two years in a row by CitySearch!
In addition to open bowling, we have adult and youth leagues that are always looking for individuals or full teams. Please call us for more information.
We also accept reservations for any type of event you'd like to have. Whether it's a birthday party, corporate event, fundraiser, or just getting some friends together (minimum 10 for a reservation), we can help! Reservations may be made Monday – Thursday between 9:00 AM and 4:00 PM. For more information, contact us here or call (773) 472-5900.
pricing
Waveland Bowl History
No, this is not a scene from "Goodfellas." This fine group of gentlemen put Waveland Bowl on the map. Since 1959, Waveland Bowl has been locally owned and operated.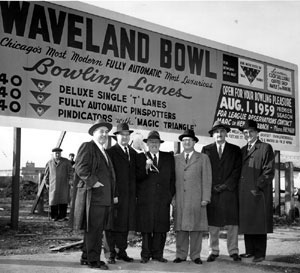 The neon sign that towered above our entrance for over 40 years was a Chicago Landmark, but sadly, its' functional life ended. The image on the right is the new tower, which has become a landmark in its' own right!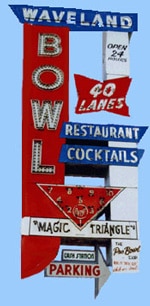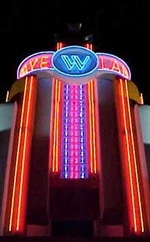 Bowling is only the beginning at Waveland Bowl!
We offer:
40 Brunswick Armour Plate Lanes
40 AMF 8270 Pinsetter
Brunswick SYNC Tablet Scoring
AMF Automatic Progammable Bumper System
New Pins every year
Snack Bar
Birthday Parties
Special Events
Leagues for Everyone!
Youth Program